Photo: First Mother's Day as a mother, baby Harland

"I can think clearly now, the kids are gone."

I remember that specific thought popping into my head, complete with the melody to "I can see clearly now," a song my youngest brother, the musician, has made his signature song.

The point was, from the time I became a mother when my son was born (the most significant moment in my life) until the time my daughter left college, my children were always first in my thoughts.
I considered myself a professional career person. I always said, "The customer comes first."
But there was no doubt in my mind (evidently a crowded place) that the kids came first. If their needs were met, I could focus on my work. I had faith in them: if they had troubles with friends, or school work or other child-appropriate issues, I trusted them to cope with their challenges, with my support. But I was pretty clear that their problems were owned by them. There were occasional health issues or matters with school administrators or coaches, but their young lives went relatively smoothly without maternal interference.
That didn't include issues with their father, with whom I often disagreed on parental policies. But we were very lucky. Our kids were bright, strong, healthy, adaptable, attractive, sociable people and had good bases from which to create their personas and futures. They were not needy or clingy or spoiled.
They were their own selves from an early age. They had roots and wings—literally. They went to Roots & Wings Nature Camp and had many other experiences in the natural world that are reflected today in their hiking, biking and other outside interests. They were both creative and artistic and have obvious design abilities which manifest today in their careers. Their verbal skills are extraordinary; their senses of humor fully developed. My daughter is "as cool as the underside of the pillow." My son is the cousin everyone wants to hear from. They have new friends and old friends. They have partners they love. Ta-da! That's all as good as it gets.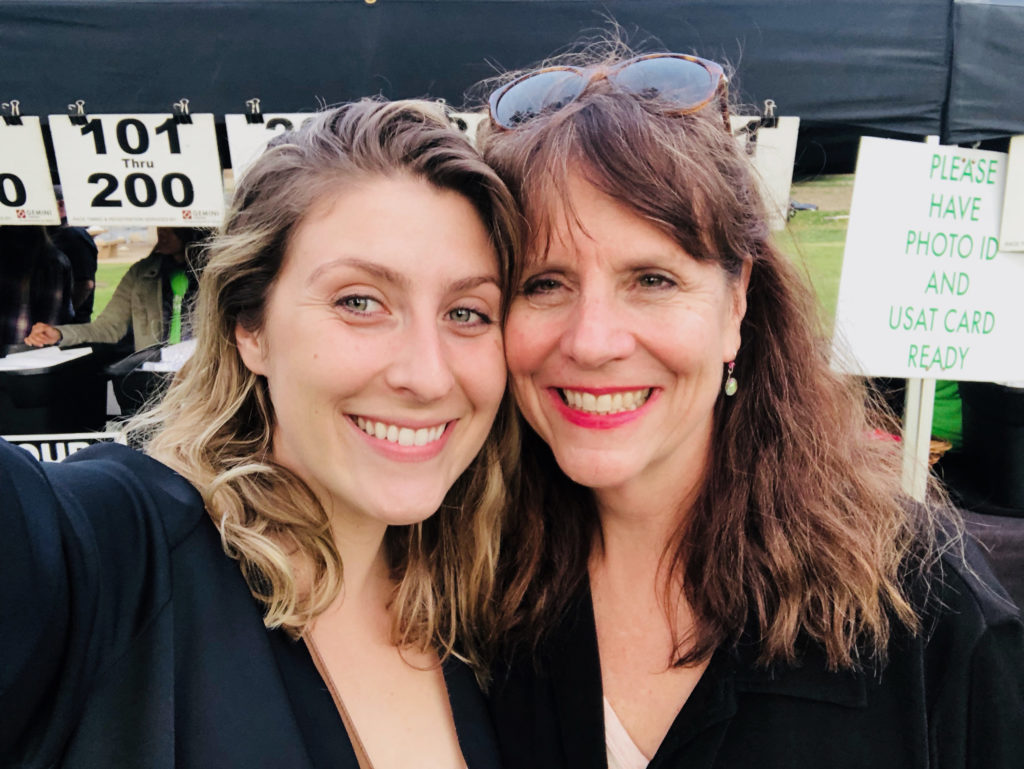 For a quarter century, from 1986 until 2011, they were the tenants renting the largest space in my head. I am very, very fortunate to have been able to pursue my profession with passion and integrity in a parallel universe to the one where I was "Mama," a sometimes fierce, always devoted, matriarch.
Today, I have a new set of parallel lives. My grandson calls me "Honey Gram," in what started as a comical alternative to ever being called "Nana," but has stuck. The adventures we have together are the most fun I can imagine having. He makes me laugh like the 5-year-old he is.
But running parallel to that is the person who has yet to maximize her potential, to share her talents fully. I work for a terrific family-owned printing/manufacturing company where I try my hardest to help them achieve their goals. And we do good work together. But my instincts tell me I am supposed to use the twilight of my career, which arrived too soon after the freedom of the kids leaving the nest, to design. Sterling Design. I would like to design beautiful things that make the world more beautiful, more soulful and connected.
My employer allows me this freedom. Every design I do outside of my job boosts my skill set and buoys my spirit, which pays dividends at my workplace.
I can design freely now, the time is right. A new song in my head.
I am writing this inspired by a zoom meeting for those of us working remotely during this most unusual time. I looked at the faces of the young mothers, one in particular, trying to juggle her job with home-schooling her daughter and caring for her younger son. I doubt she knows how beautiful she is, how important she is in her kids' lives, how seldom that will ever be communicated. Her efforts, her struggles, her defeats and her triumphs draw my memory back to 25 years of trying soooo hard. Every day. Trying. I tried and tried and tried. I was angry often. Rage energy propelled me. Depression swallowed me. Back pain nearly ended me. Knee pain gave me my ticket back to being an athlete. Two new knees and a spinal fusion, over the course of a decade, rebuilt me. I am a triathlete now. I am Honey Gram.
I hope with all my heart that the paths of the young mothers in my zoom meeting are easier.
When I look at their beautiful faces, I know that one Mother's Day a year is not enough. Women's work is huge. Parents' work is daunting. We all try so hard. And it is 100% worth it.
Happy Mother's Day, every day.